ZAC CONWAY:BYRON BOUND
FINE ART JEWELLERY
handmade to order
from sustainable
local materials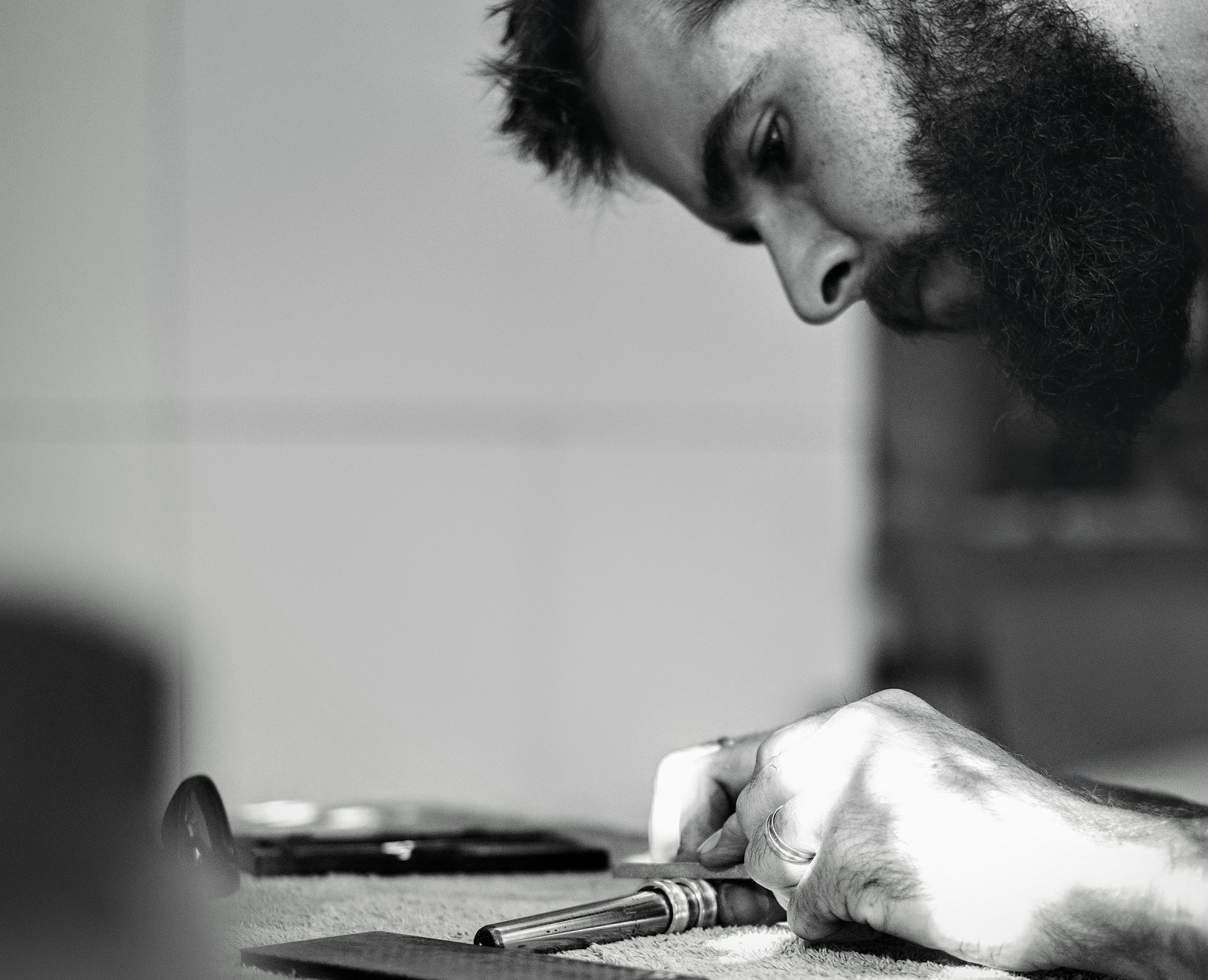 ocean collection coming soon
Investment grade 24ct jewellery
gold
melting temp 1064.18 °C
density 19.3 g/cm³
The raw lustre of pure gold is unmatched in beauty. it captivates the eye and has maintained it's place as the metal of choice for tens of thousands of years.
I work with 24K pure gold only, creating investment grade heirloom quality jewellery. 24K gold is softer than alloys such as 22K, 18K, 14K. These impure alloys, although 'harder', pull the rich deep colour out of the metal. By fabricating with care, and clever design, pure gold can be made in ways to withstand wear and tear, however maintenance and repairs are recommended over the years.
Platinum is pure and will never tarnish
platinum
melting temp 1768.30 °C
density 21.45 g/cm³
The strongest superior pure white metal out of all precious metals. much denser than pure gold and with a much higher melting temp, only specialist jewellers can work with this lustrous stunning metal.
Great for claw set gems, and wide men's bands, the strength of platinum outweighs palladium and white gold significantly.
In order to maximise quality, I create casts from hand carved moulds, and centrifugally cast pure recycled platinum lightning fast, eliminating inclusions, porosity, and weakness, allowing handcrafted elements and textures, cast in perfection and lustre.
recycled musical grade tonewood
tonewood
recycled exotic
My love and true speciality. I am proudly one of the leaders in Bentwood Ring Design in the world today, spending the past 6 years perfecting and innovating new techniques and methods unseen and unused by others in the world today.
Made by coiling delicate ultra thin shavings of fine instrument grade tonewood, each ring is over 12 laminations thick and coated in high quality resin. Each ring is made completely by hand to control quality. No lathes, no machines, just care and a musicians dexterity.
Bentwood rings are waterproof and wear well, however depending on your lifestyle, refinishing is recommended every 12-24 months.
Consider a metal liner to reduce refinishing requirements and increasing strength.
lightning ridge black opals
rough sapphires, rubies, emeralds etc
argyle rough octahedron diamonds
precious metal and crystal
REQUEST A QUOTE AND CHAT TO ZAC